After four successful years, we are proud to announce that the 5th Erasmus+ International Staff Week at Palacký University Olomouc, Czech Republic, organized by the International Relations Office, will take place from 21st to 25th June 2021 in our lovely university city Olomouc. It is the ideal week to boost your knowledge on internationalisation issues and to network with partners from around the world.
Please note that this year we are going to combine the on-site programme together with the on-line sessions (held via Zoom) for those participants who would not be able to come to Olomouc due to pandemic restrictions.
The main themes of the 5th E+ISW UP 2021 are:
Online student services and work well-being
Erasmus+ outgoing students, Erasmus+ incoming students
Erasmus+ KA107
Intercultural competences & more …
Additional activities include a guided tour of Olomouc, a welcome dinner, and a trip to Olomouc surroundings.
There is a limited capacity of 25 people and we will try to ensure the most diverse group from different countries. Thus we will not accept more than 2 people from the same institution.
In the previous years, we had the chance to meet with colleagues from Izrael, Poland, Croatia, Kazakhstan, Lithuania, Brazil, Germany, Morocco, and many others. We discussed important topics during workshops and meetings and shared useful practices from our universities. In the afternoons, we enjoyed a cultural programme. We showed our guests Olomouc and Kroměříž and its beauties and established personal and professional relationships from which we benefit until today. See the photo galleries below, the photos speak for themselves.
Olomouc (pronounced ollo-moats) has it all, including UNESCO-protected architecture, great museums and energetic, student-oriented nightlife. It (or as the Czechs say: she) had always been among the most important cities of the Kingdom of Bohemia. With its convenient location, ancient university and spiritual, cultural and craft traditions, Olomouc has been for centuries a natural centre of Moravia, attractive to artists, intellectuals and businessmen.
The tourist guide Lonely planet ranges Olomouc among the best-kept secrets in Europe.
Established in 1573, Palacký University Olomouc is the oldest university in Moravia and the second-oldest in the Czech Republic. It is a modern institution providing high quality teaching combined with research and supported by state of the art facilities – libraries, computer facilities, laboratories, etc. With 8 faculties, the university covers fields from health sciences and medicine through modern and classical languages, philosophy, teacher training, sciences, law, and theology. Palacký University has about 23.000 students and over 1800 members of teaching staff, which is the highest density of university students in Central Europe and it makes Olomouc a truly university city.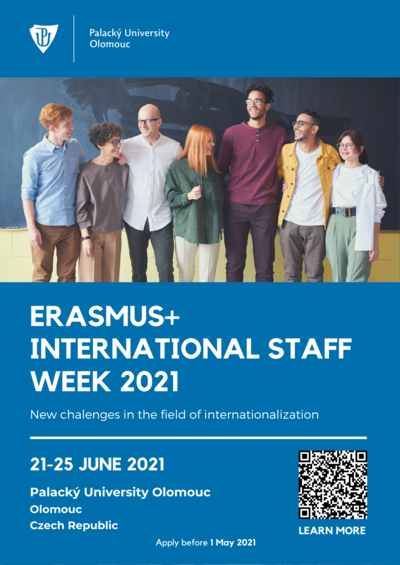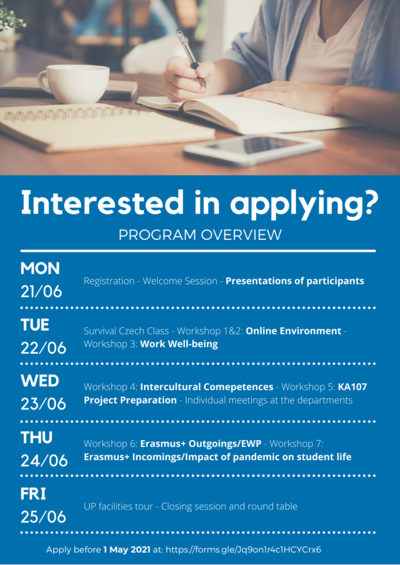 Application deadline: 1st May 2021
Communication of results: 2nd May 2021
If you are interested in participating in the 5th Erasmus+ International Staff Week, please fill in the application form.
In case of any inquiries, please contact us at iro.up.olomouc@gmail.com 
Participants are requested to pay a fee in the amount of 70 EUR. This fee is required in cash after the arrival to Olomouc only on the first day of the E+ISW UP 2021.
The online sessions are free of charge.
Accommodation is not included in the price.
What did our participants say about the previous E+ISWs?
"Thank you for all exciting events like city game, trip to Kromeriz, Czech language course, tour around the Olomouc and others. These all gave me the feeling that you are best team to organize staff weeks."
"It was great meeting colleagues from other universities, establishing new networks, learning more about how mobilities are carried out at European Universities."
"Thank you so much! This is definitively an addition to my professional and life experience. Keep up the great work!"
"Everything was well-organised, great thanks to the International Relations team 🙂 I enjoyed it a lot!"
"I was able to obtain tips and information very useful for the internationalization of my university."