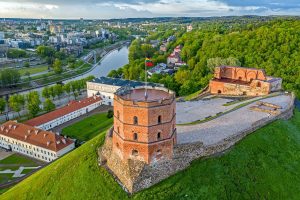 The 2023 CESNUR Conference
Co-organized by:
Center for Studies on New Religions (CESNUR)
International Society for the Study of New Religions (ISSNR)
Center for the Research and Information About Religions (Lithuania)
Lithuanian Society for the Study of Religions
Vilnius University Institute of International Relations and Political Science
Vilnius, Lithuania
June 20-23 2023
Call for Papers
New religions have been always at the forefront of social experimentation in various areas, from religious teachings and everyday practices to contributions to the legal systems with new cases for freedom of religion. The COVID pandemic has stopped the world for almost two years, and new religions had to adapt to the new reality. For instance, Jehovah's Witnesses stopped door to door witnessing and moved all activities online, as did many other religious groups. In times of crisis, religion might serve both as a place of consolation and as a source of conflict. Religious groups might also become victims of scapegoating in the process of creating a societal cohesion in the face of crisis.
On February 24, 2022, the Russian Federation renewed its aggression against Ukraine and occupied part of its territory. As freedom of religion in the Russian Federation is limited, its current invasion of Ukraine is putting religious groups existing there under risk too.
The periods after crises usually serve as times of adaptation, reflections on the former experiences, and new beginnings. Reflecting on the time of crisis may provide insights about the future of new and minority religions in a post-COVID and post-war world. Henceforth, we invite scholars of new and minority religions from various academic disciplines to discuss the way new and minority religions approach social, and political crises, adapt to them overcoming inner and external challenges, and demonstrate (or do not demonstrate) resilience.
The conference will take place in Vilnius, the capital of Lithuania, a city which is celebrating 700 years since its foundation in 1323.
The conference will open with a field trip on June 20; paper will be presented on June 21, 22, and 23.
Paper submission deadline: March 15, 2023
Registration deadline: April 22, 2023
Publication of the final program: April 29, 2023
Papers and session proposals should be submitted by E-mail before the close of business on March 15, 2023, to cesnur_to@virgilio.it, accompanied by an abstract of no more than 300 words and a CV of no more than 200 words. PhD students should attach a letter of support from their advisor.